If you are looking for a place to relax and enjoy a royal treatment, Harir
Palace Hotel is the perfect choice!
With an impressive array of 113 elegantly styled rooms & Suites.
At Harir Palace Hotel you will find an accommodation with the highest levels of comfort, with huge and elegant decorated rooms.
We offer premium rooms and suits for our guests that exceeds their highest expectations.
Deluxe Double Room
The Deluxe Rooms are quite and feature the standard amenities including a comfortable king size bed, air conditioning, TV and toiletries to make your experience in our hotel hassle-free. Room size 20 m² Check Availability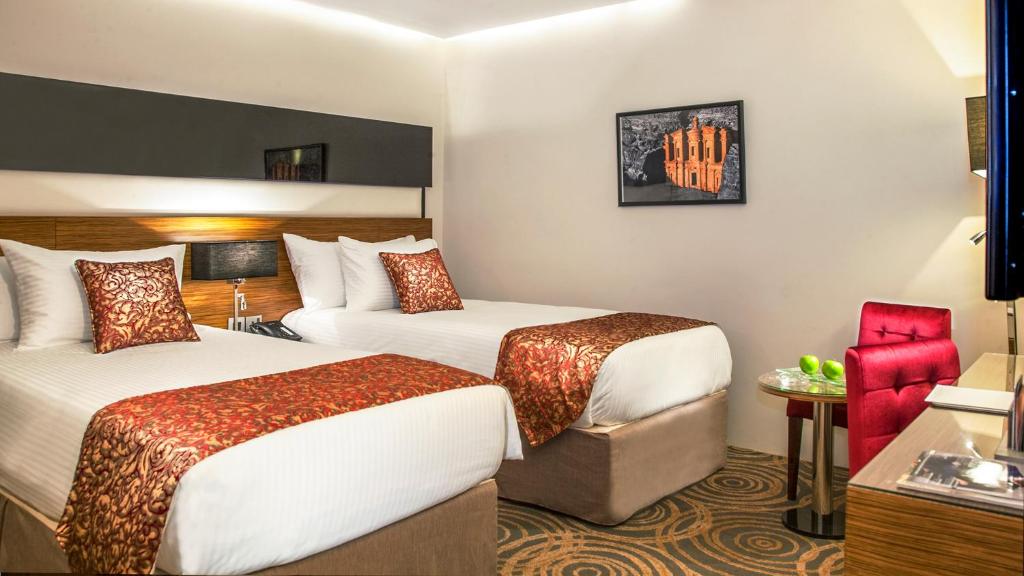 Premium Twin Room
The Premium Twin Rooms are furnished with 2 single beds with TV, telephone, air conditioning, as shower and a hair dryer. Check Availability
Business Suite
The Business Suite features the finest furniture with unrivaled luxury that will help you manage your work tasks at home away from home. Its coupled with a beautiful panoramic view to stay away from the outside noise with the mixture of room tranquility and the view of the crowded city. The room offers a spacious bathroom and you will enjoy the benefits of air conditioning, TV, hair drier and shower amenities. Check Availability
Junior Suite
The spacious and luxurious Junior Suite comes with a king size bed with a beautiful view offering tranquility and comfort to every guest, its for business travelers or families in need of additional space. It offers premium amenities including a comfortable king size bed, air conditioning, TV, hair drier, shower amenities. Check Availability
Executive Suite
From the luxurious furniture in the seating area, separate sleeping areas to the elegant hot tub, the executive suite is the ideal solution for business or a long leisure weekend with the family, offering 48 square yards of space. A TV screen is found at the master room and in the seating area for to enjoy your favorite channels even when you are not alone. Check Availability
Honey Moon Suite
Get to your Honeymooners Suite with an elevator from the wedding hall to the newlywed special suite, which is designed with luxurious furnishings, magnificent fabrics and a spacious bathroom for the utmost comfort. Slip away into your own private haven with a relaxing hot tub and get ready to spend the most exceptional days of your life at the Honeymooner suite which will provide new couples with everything they might need; from the benefits of air conditioning, TV, hair drier and shower amenities. Check Availability